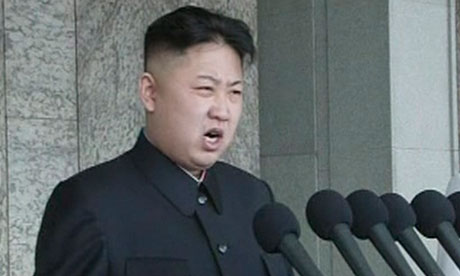 Kim Jong-un addresses North Koreans in Pyongyang. Photograph: Reuters
Intelligence On North Korea, And Its New Leader, Remains Elusive -- New York Times
WASHINGTON — The black hole of North Korea intelligence gathering is getting blacker.
When President Obama and South Korea's new president, Park Geun-hye, meet for the first time at the White House on Tuesday, intelligence officials and outside experts say, they will be working, by necessity, from a deeply incomplete understanding of their common adversary. At a time when the United States has learned to conduct drone strikes with increasing accuracy in Pakistan, and direct cyberweapons at specific nuclear centrifuges deep under the Iranian desert, its understanding of North Korea's leadership and weapons systems has actually gotten worse.
The most recent intelligence failures included what administration officials now acknowledge was the C.I.A.'s initial judgment — now reversed — that the North's young new leader, Kim Jong-un, was probably more interested in economic reform than in following his father's and grandfather's "military first" policy of bolstering the North's missile and nuclear arsenals, and threatening to use them unless the world came to its door.
Read more
....
My Comment:
The intelligence agencies should talk to
this North Korean expert
.